Note: Please scroll down for custom installation information and e-assist gallery.
Also please note that I am 'not' an Internet source for batteries and motors.

E Spike / And Conversion Information
The Trident E Spike Is a modified 8 Speed Spike 1- It uses an integrated system by a Japanese company called Dapu. It features a 350W Geared Hub Motor, a special Crankset with sensors, a 36V 13 AH Rack Mounted Battery with built in light, and a Digital Display. With this system you can choose between throttle only or 6 different levels of pedal assist.The Samsung 36v 13AH battery is much larger than other manufacturers use and will give you a much longer range - about 50km electric only and up to 100km using pedal assist. This entire package only adds 18.5 Lbs to a Spike!

E Spike
E Spike Controls... Throttle, LED console and power level switches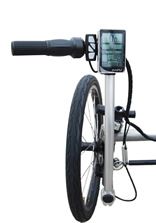 E Spike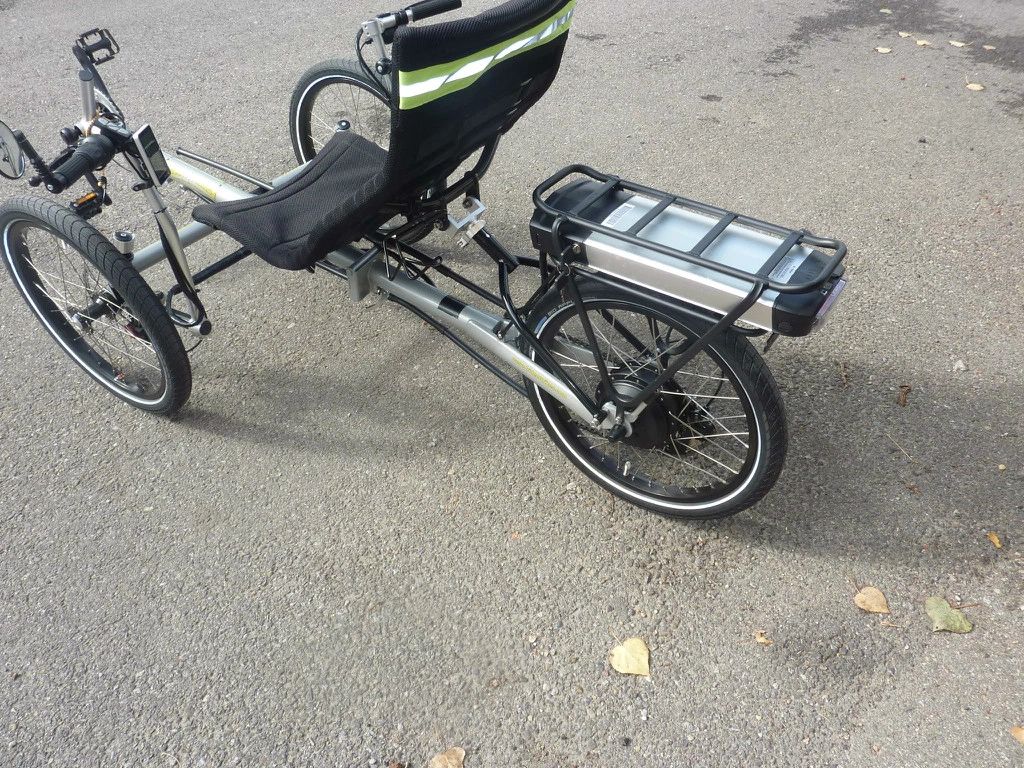 E Spike Battery and Dapu hub motor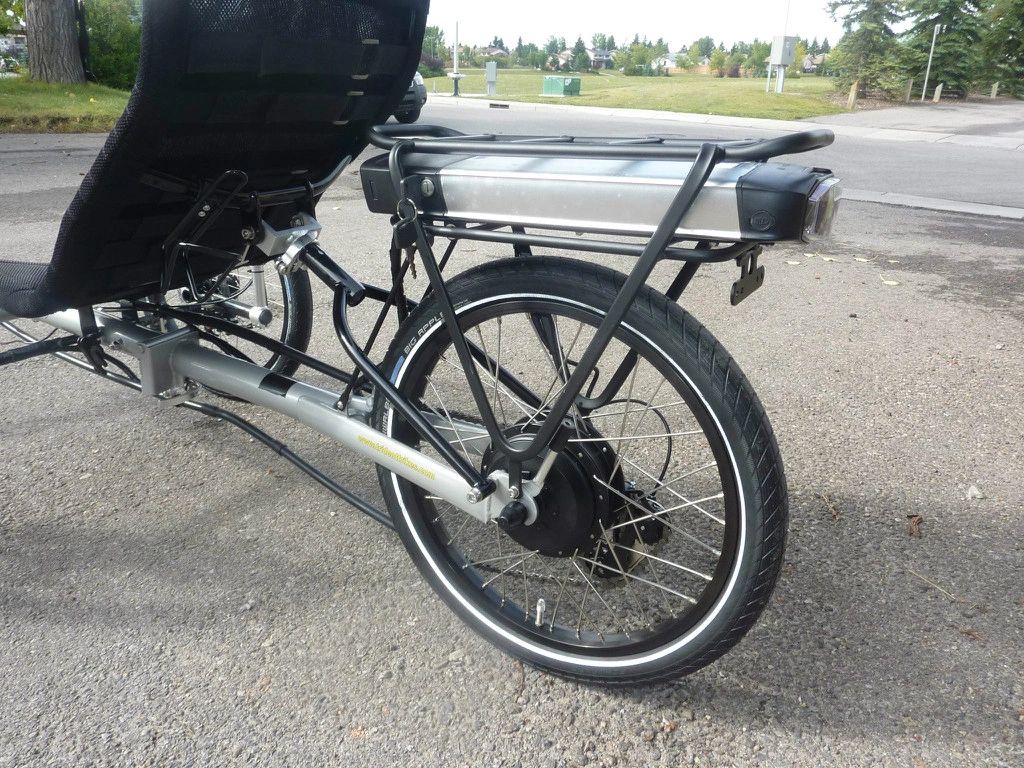 E Spike LED console, throttle and selector switch (LED & switch are now on the right side)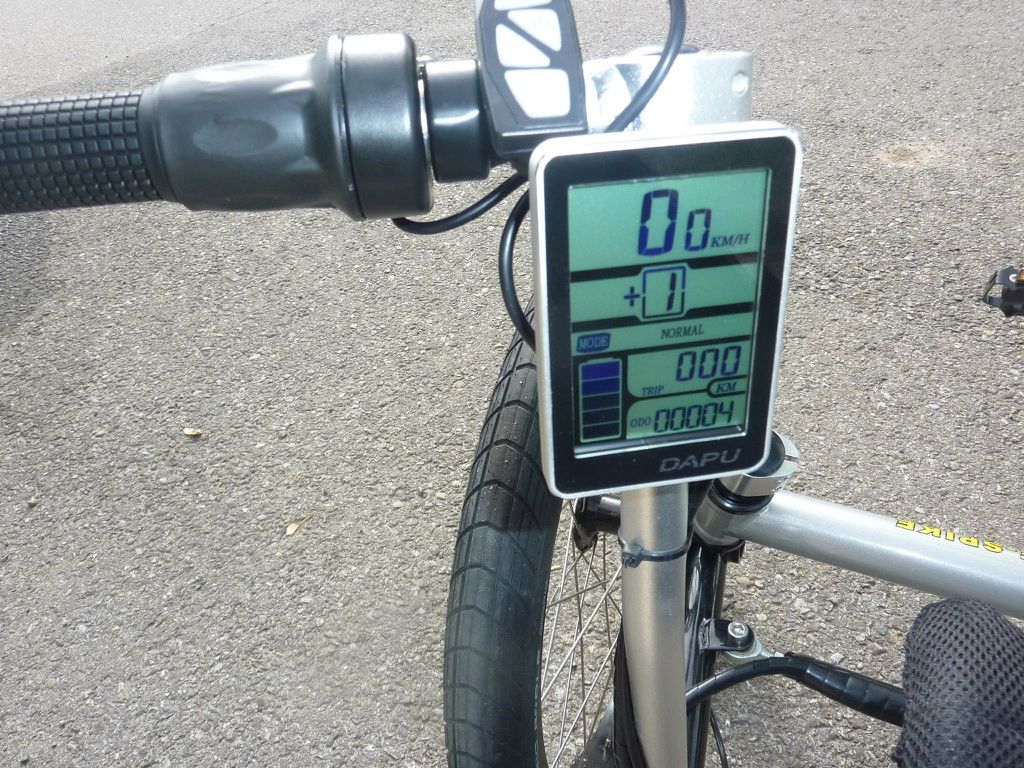 As mentioned the E Spike uses components from Dapu. Dapu is an ISO 9001 company that also supplies companies like Easy Motion bikes, which means that you're dealing with a reputable company producing a reliable product. The 13 Ah battery is from Samsung (along with LG, Panasonic and Sony) Samsung is one of the worlds leading ebike battery manufacturers.

The 350 watt gear-type hub motor is quite torquey so it climbs steep hills very well (since it is a gear-type motor it free-wheels easily when you're not using the motor) The motor is one of the smoothest and quietest that I have ridden.
The torque sensor is part of the crankset, it senses how hard you pedal and converts that to assisted forward motion (6 levels)
IE if you pedal lightly it just adds a small amount of power, if you push harder it intuitively adds more power. Level 1 offsets the extra weight of the electric components quite nicely. For head winds and hills simply choose the appropriate assist level (1-6) and proper gear position (1-8). By setting the console to '0' you access the 'throttle only' menu - you can just pedal, just use the throttle, or simultaneously pedal and use the throttle. The E Spike conforms to the Canadian ebike legal speed limit of 32 KPH

A double decker rack is standard: since the top of the rack is unobstructed you can mount a rack bag or panniers. The E Spike now comes with Schwalbe Big Apple tires... they are one of my favorite tires as they really help smooth out the bumps but yet offer little rolling resistance. Avid BB5 brakes and a Microshift trigger shifter are also now standard fare.

Overall the E Spike is well sorted out, its quiet, has excellent range, and it makes short work of hills and headwinds - but yet it remains flexible enough to give you a good workout if you so choose.

E Spike $4165.00

Financing available
Price subject to change with currency fluctuations.
TerraTrike EVO

The TerraTrike EVO (Electric Vehicle Option) is based on the popular Rambler platform. It features a Bosch Active Line (mid-drive) that mounts on the front of the boom. Unlike hub motor based systems the e-assist on the EVO drives through the chain, scroll down for a link that explains the differences between motors. The EVO is the only trike on the market utilizing the Bosch motors that have proven to be reliable, effective, and very popular in the e-mountain bike community. Being a German export there is no additional tariff being levied.

I'm not going to into vast details, please take this
link
for further information, and feel free to contact me if you have any questions.
- Rob

Price approx $6000.00 - Financing available

Custom conversions:
For those that have an existing trike / bike to convert, have specific requirements, or want something custom, I perform various types of electric conversions.
Funwest Sports is an authorized dealer for several highly respected companies including
Grin Technologies
out of Vancouver.
I also have several of my own industry connections including TS Systems mid-drives, and my own high quality battery supplier.
My primary focus is to maintain a high level of rideability by choosing the correct components for each individual based on his / her specific requirements. A properly integrated system will not alter handling, add pedaling resistance, or add excessive weight... all while offering considerable assist with above average range.
I offer everything from throttle activated systems to more advanced
'pedal assist
' installations, mostly utilizing
front mounted
'mid-drives'. For certain applications I usually use
gear type
hub motors, usually from Grin Technologies. Depending on the application I can also do custom installed
TDCM
or Sempu torque sensing bottom brackets and
Cycle Analysts
. I don't skimp on battery size or quality, I only use high quality lithium ion cells either from Sony, LG, Samsung, or Sanyo / Panasonic.
I mostly install 14.5Ah 36 volt Panasonic celled batteries situated in a rack mounted key switch bag.
Other mounting options and larger capacity 17.4 Ah or 20.3 Ah batteries are available on a case by case basis. For 48 volt applications install 11.6 Ah or 14.5 Ah batteries. Larger sizes are available by special order. All batteries I carry utilize a heavy duty battery management system (BMS), capable of minimum 25 amps continuous.
Mid-drive update...
Note: Do to sub standard quality I'm no longer offering Bafang
mid-drive
conversions. However in 2014 I sourced a high quality 36 volt 350 or 48 volt 500 watt replacements from TS Systems.
They are an ISO9001 certified company that also meets the EU TUV certification for ebikes. While not well known in North America, TS has enjoyed a strong presence in Europe and China for the last decade.
I'm proud to be the first
authorized dealer
in Canada for
TS Systems.
They are a pleasure to work with and understand Western expectations regarding service and warranty.
My systems are trike specific and have custom length cables.
Unlike competitors, TS utilizes a torque sensor that senses how hard you pedal, and converts your effort into four levels of boosted power. At the push of a button simply choose between: Eco, Tour, Speed or Turbo to obtain the level of 'pedal assist' required. The OEM quality LCD also features a speedometer, trip distance, odometer, time ridden, and a battery gauge. With a 14.5 Ah battery, expect range to be between 80km and 120km ~ depending on terrain, conditions, fitness level, and riding style.
Measured watt hours per kilometer are very low... in the 2.5 to 5.0 range in real world riding conditions. The small motors utilized are very power efficient, yet with a primary and secondary gear reduction system they have incredible hill climbing torque.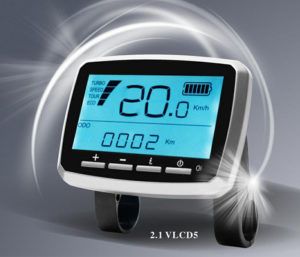 LCD ~ Thumb controls not illustrated
TS Systems 500 Watt, 36 Volt, 90 Nm torque, mid drive with a 2 year warranty
**Please see below for pictures of installed systems.
Whether it be for fun, hills, headwinds, or special needs ~ I am more than happy to discuss your requirements and answer all of your questions.
Click here
for the differences between motors.

Installed prices:
Conversion prices start at (Approx) $1599.00 - Trikes / bikes not included
*A typical TS mid-drive pedal assist system with a 14.5 Ah 36 volt battery starts at $1699.00


* Includes installation, a TerraCycle LCD mount, and a battery charger.

* Optional Shift Sensor $69.00 (Pauses the motor when shifting gears)

**Financing available on all e-assist conversions :)

Electric conversion gallery...
His & hers HP Velotechnik Gekko fx20's with TS mid drive e-assist.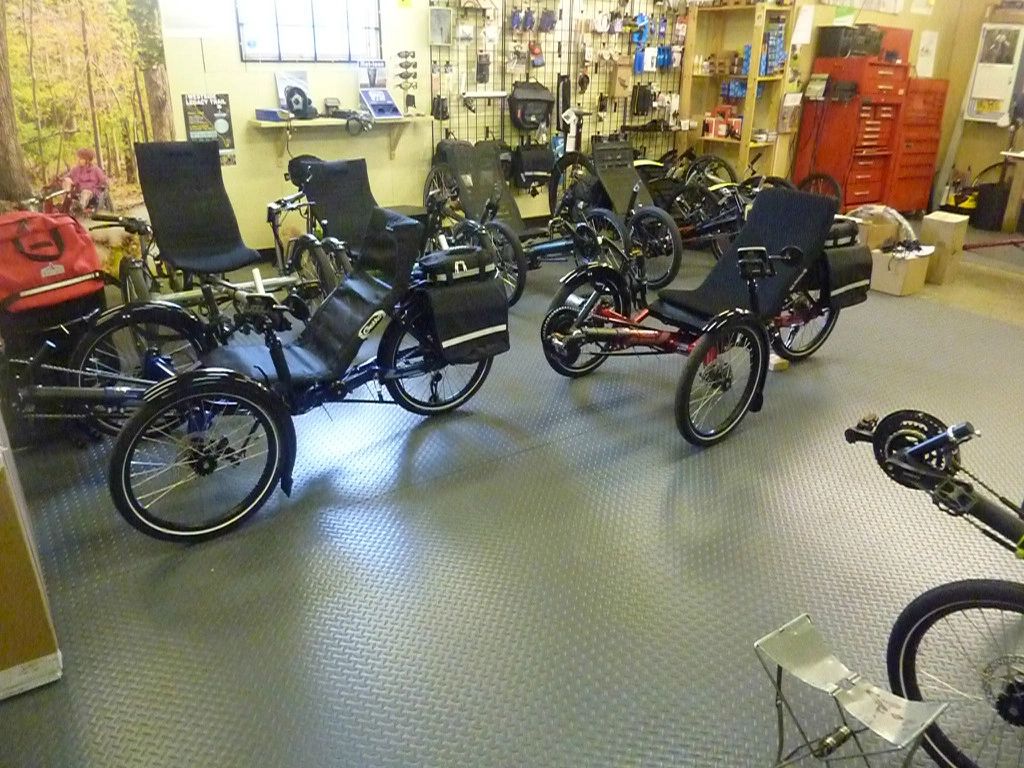 AZUB Ti-Fly 'X' with TS Systems mid drive e-assist, Sanyo / Panasonic GA celled battery
.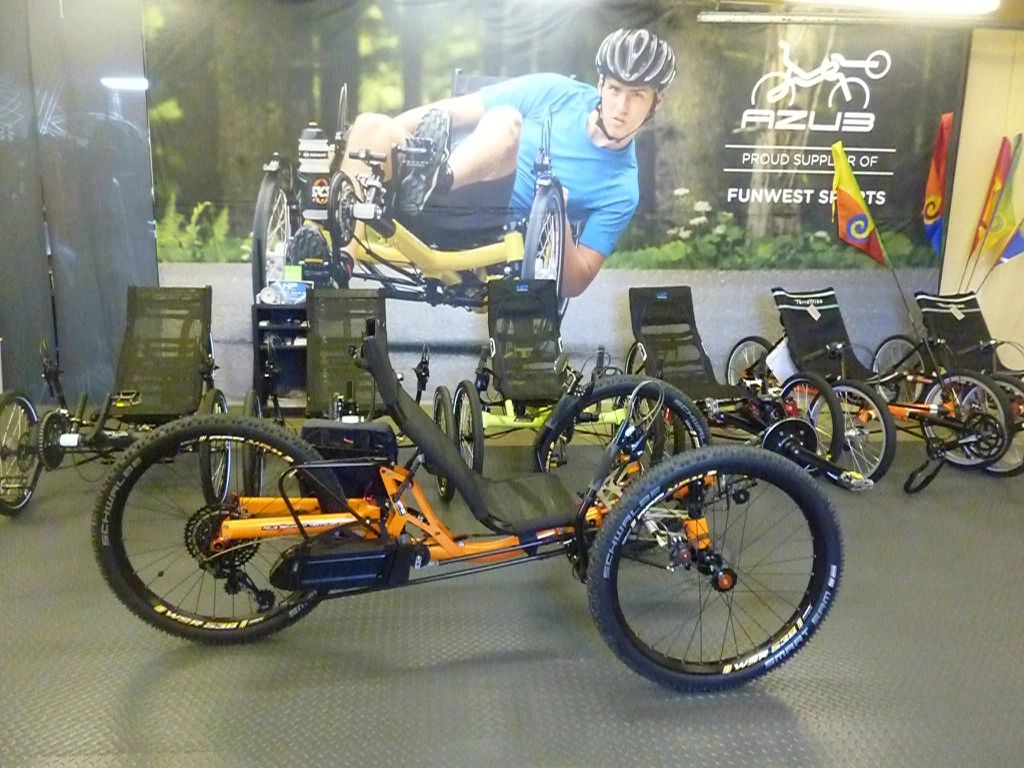 TerraTrike Rambler All Terrain, set up for winter excursions with studded tires and pogies. Hidden Bafang MG310 hub motor & 36 volt Panasonic battery.

AZUB Ti-Fly 26, MXUS hub motor, Phaserunner controller, 48 volt Sanyo / Panasonic GA celled battery, TerraCyle battery mount, V3 Cycle Analyst.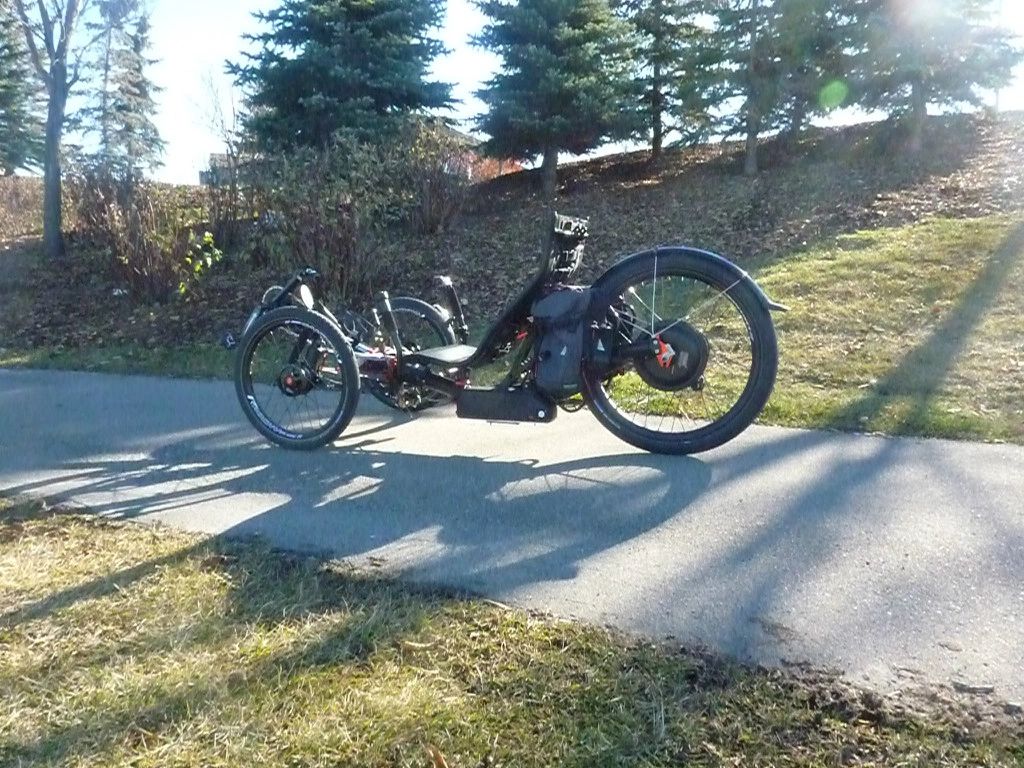 AZUB Ti-Fly 26 with an eZee 500 watt hub motor, 25 amp controller and a V2 Cycle Analyst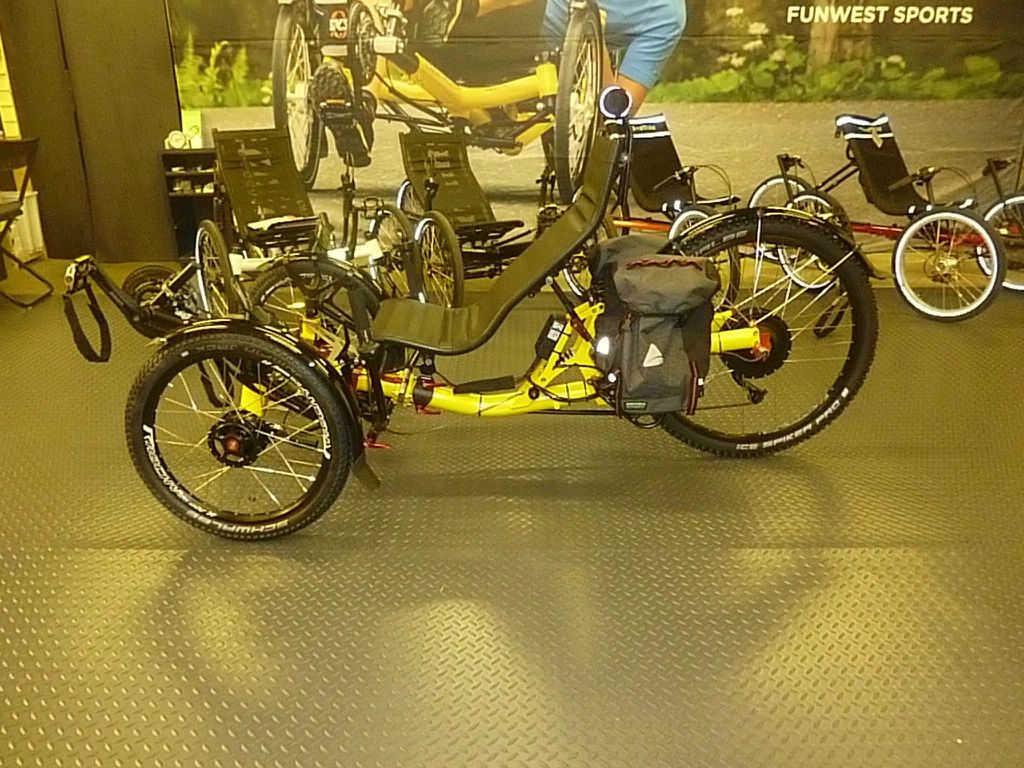 HP Velotechnik Gekko fx26 with a XOFO 500 watt geared hub motor, a 25 amp Grinfinion sine wave controller, V3 Cycle Analyst, and a 17.4Ah Panasonic battery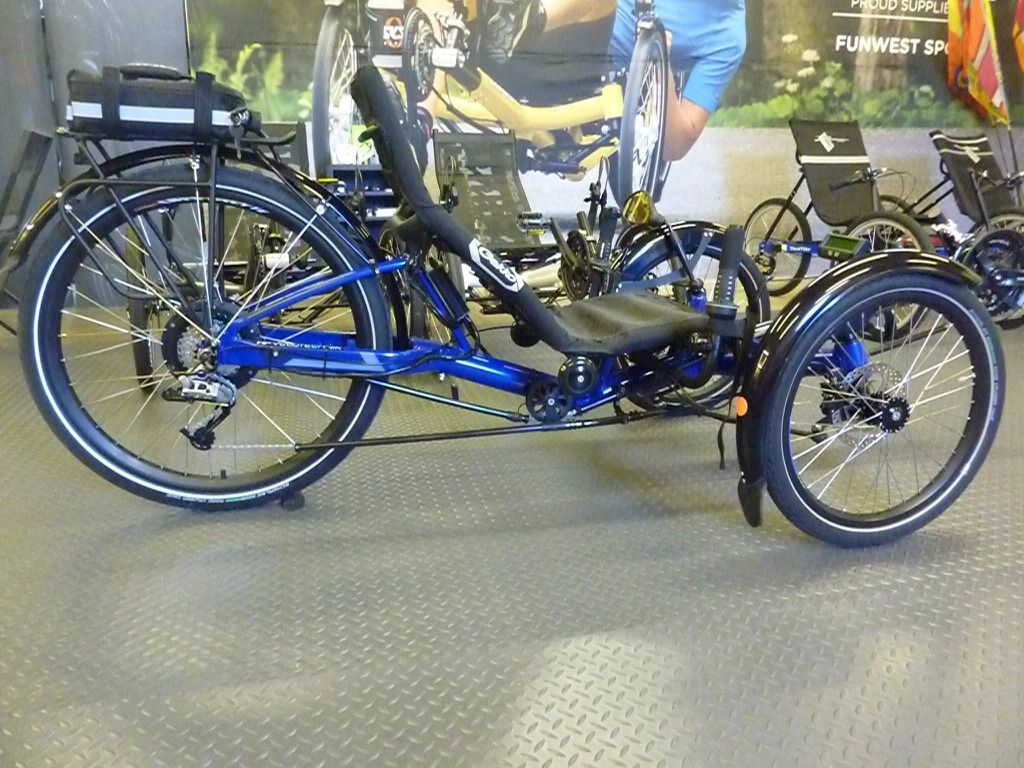 AZUB Ti-Fly 20: 48 volt 840 watt hour Sanyo / Panasonic GA celled battery, XOFO 500 watt hub motor, 25 amp Grinfinion sine wave controller, V3 Cycle analyst, Sempu torque sensor with throttle override.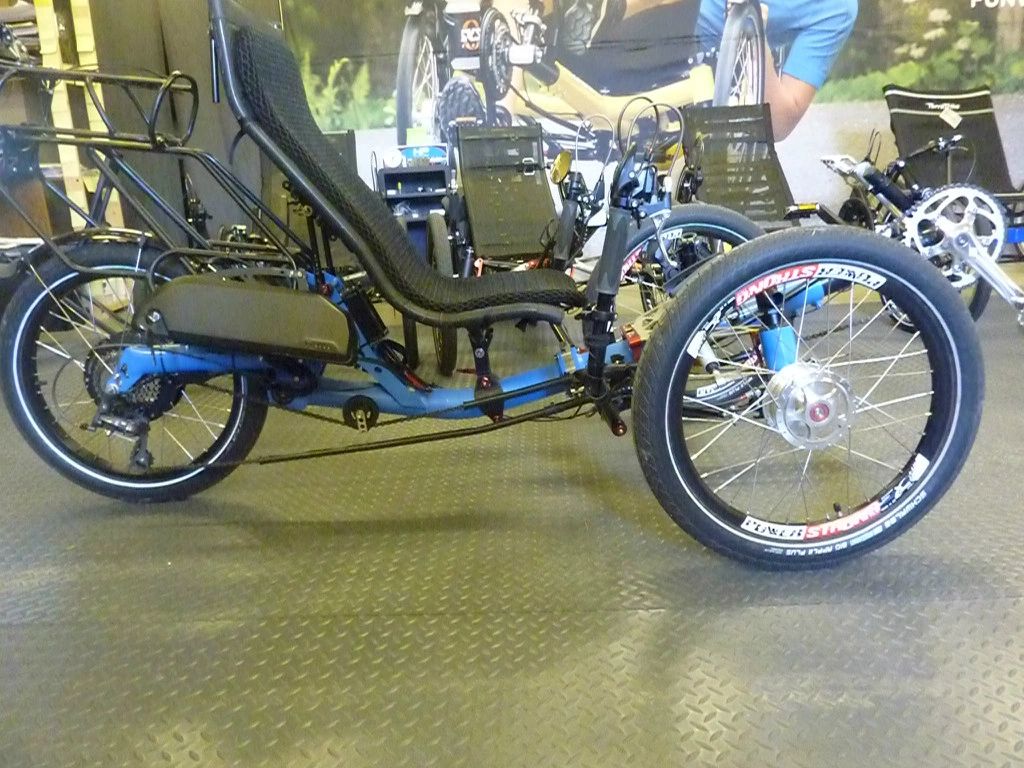 TerraTrike Rambler A/T with a TS Systems 350 Watt Mid Drive. Set up with right hand controls.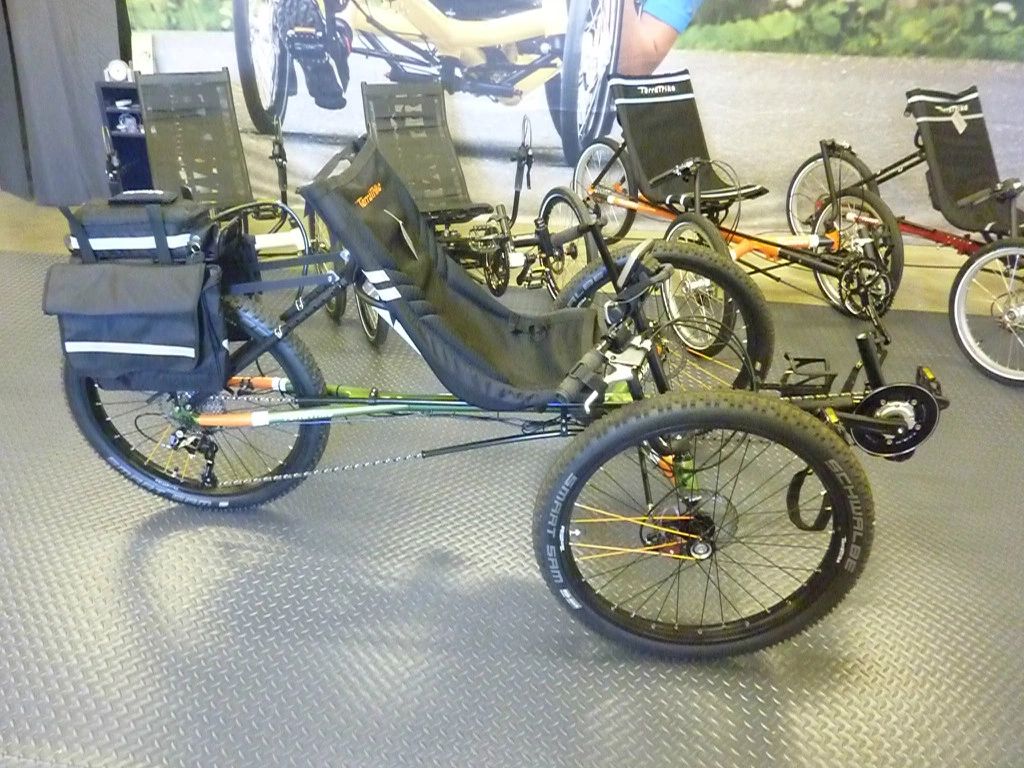 AZUB Ti-Fly 20: Set up for a year round commuter. XOFO 500 watt hub motor running a sensorless 25 amp controller. 522 watt hour Panasonic 36 volt battery.

E Fat Trekker with a XOFO hub motor,a 25A Grinfineon sinewave controller, and a V2 Cycle Analyst
TS Systems 350 watt mid-drive (motor on the front)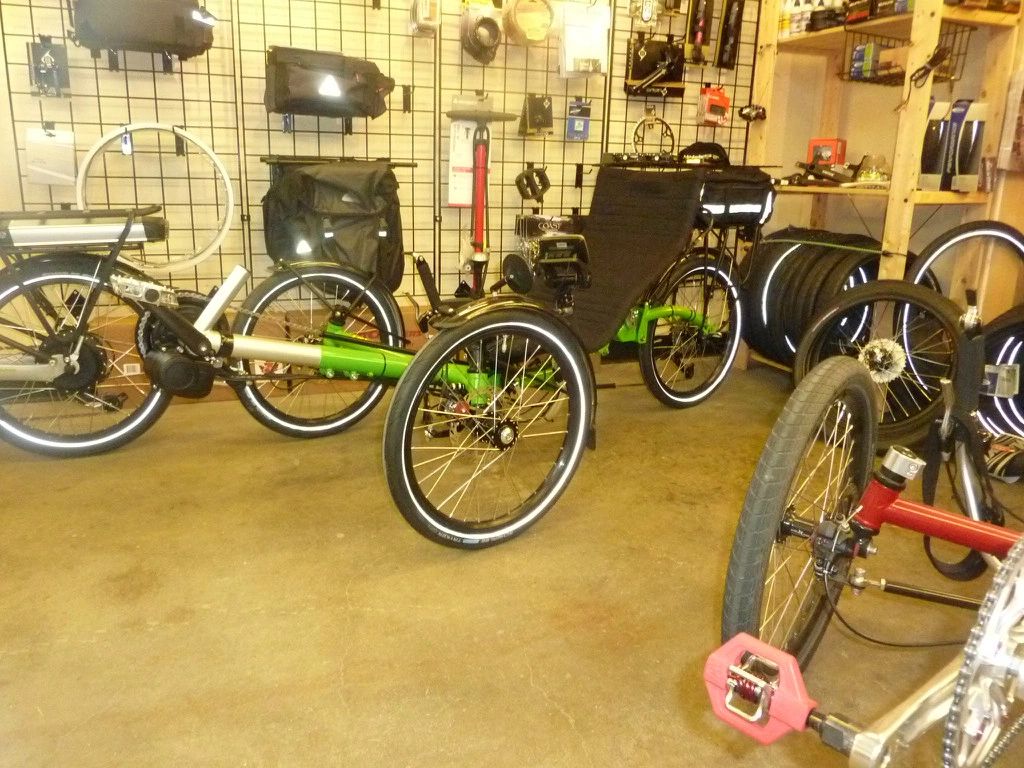 Compact size yet impressive 80 Nm torque for hills (TS Mid Drive)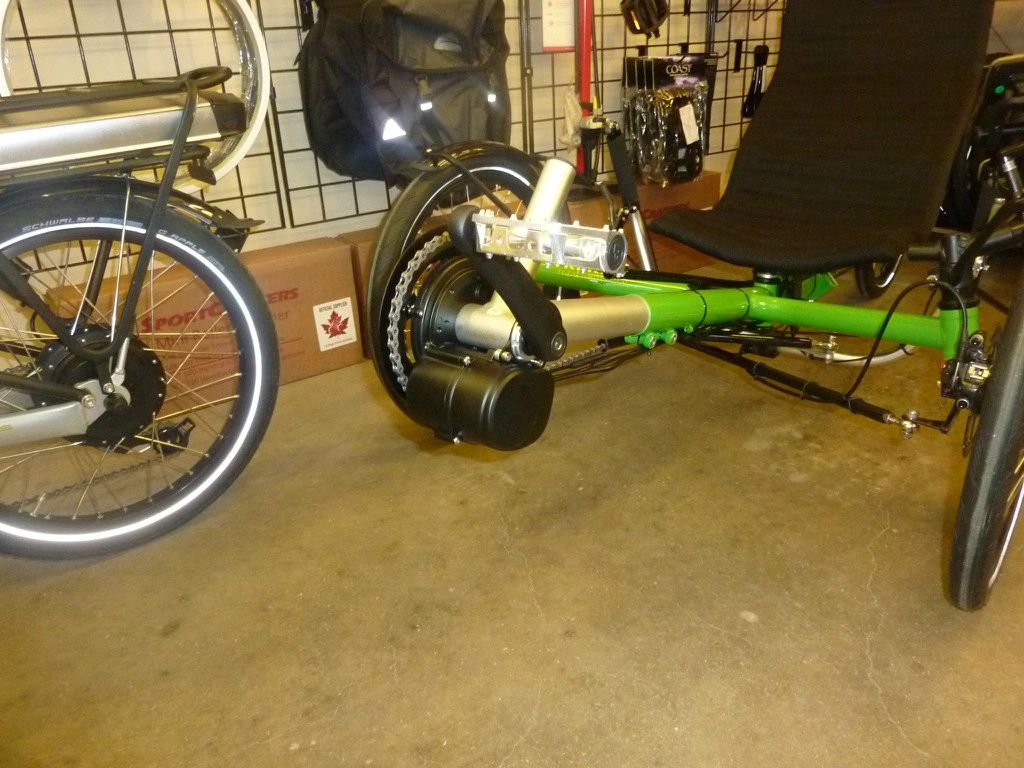 TS Systems LCD and easy to operate thumb controls on a TerraCycle T mount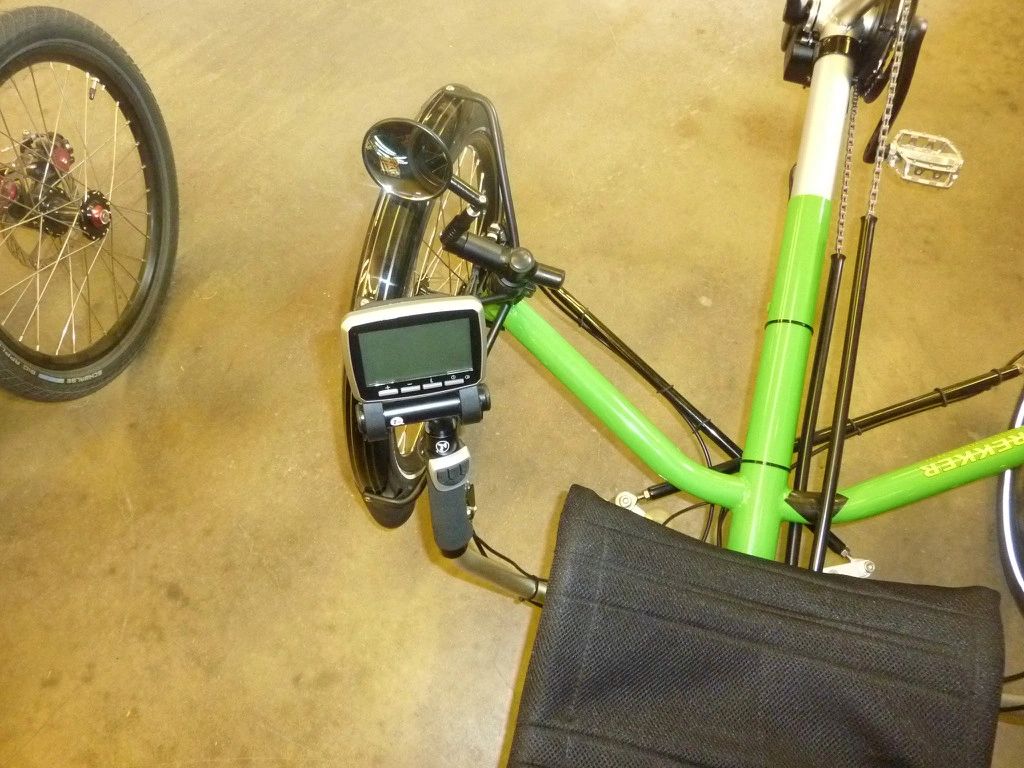 TS Systems 500 Watt mid-drive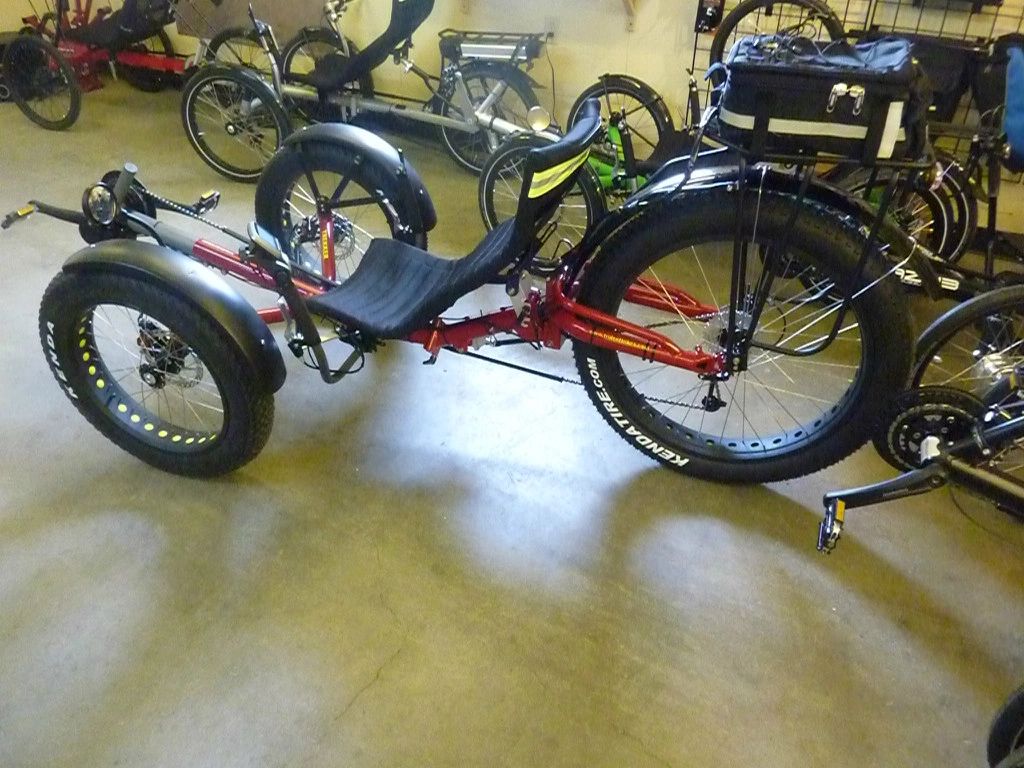 500 watt XOFO hub motor, 23 amp sensorless controller, 36 volt Panasonic battery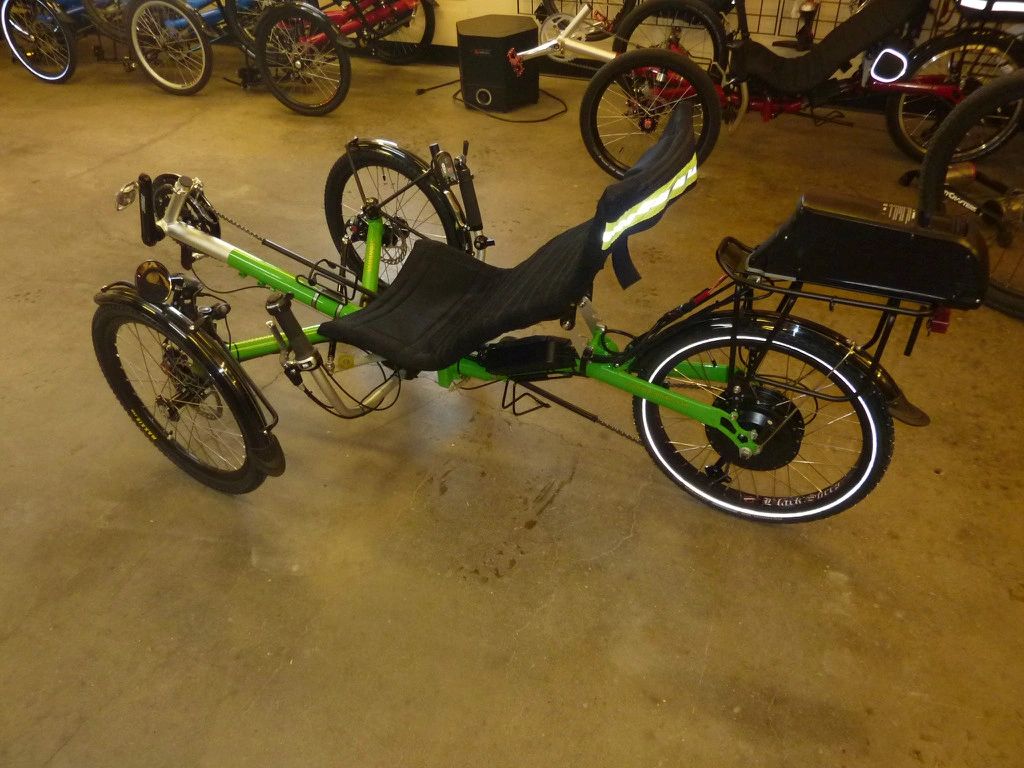 An eZee 500 watt system from Grin, 25 amp controller, 15Ah 36v LiMn Sony celled battery, TDCM torque sensor and a V3 Cycle Analyst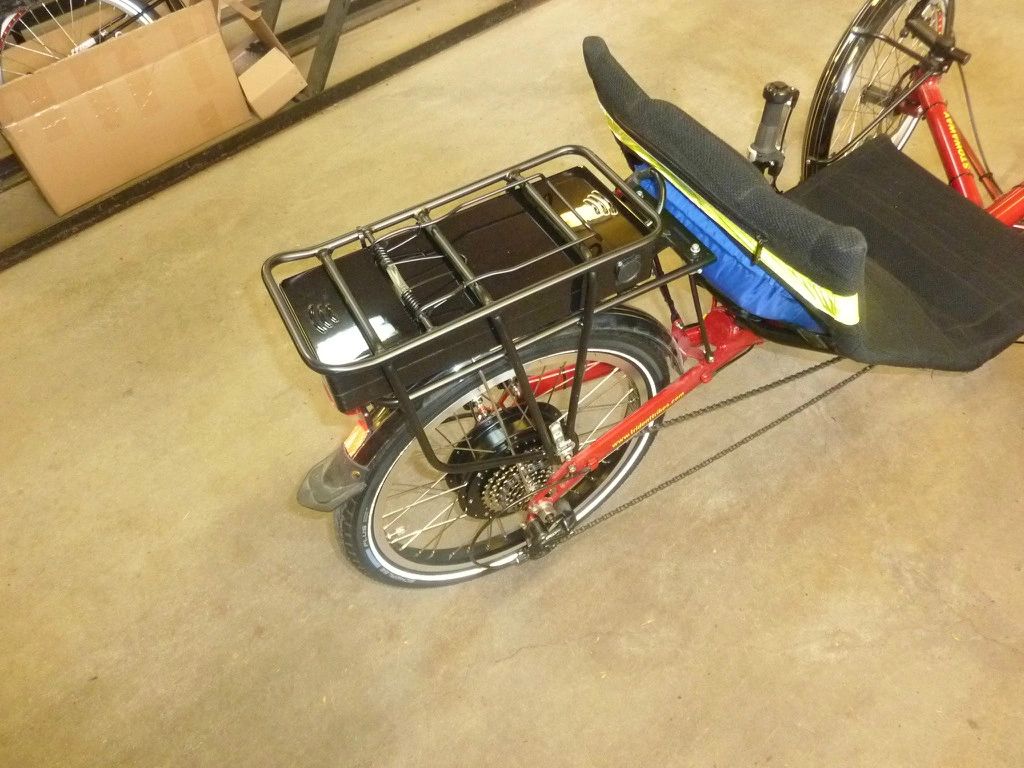 V3 Cycle Analyst

Jamis Explorer, BMC V2T hub motor, Grin Phaserunner controller programmed for 35 amps, V2 Cycle Analyst, Allcell 48 volt 15Ah battery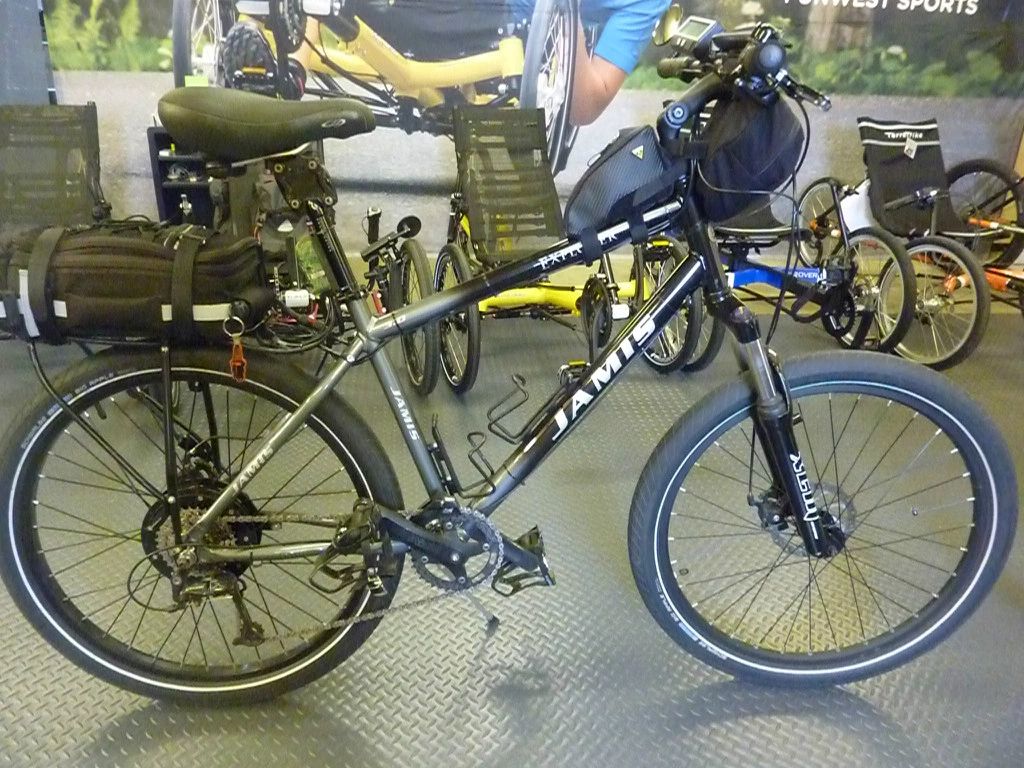 Bike Friday folder, XOFO 500 watt hub motor, 20 Ginfineon sine wave controller, bottle mount battery.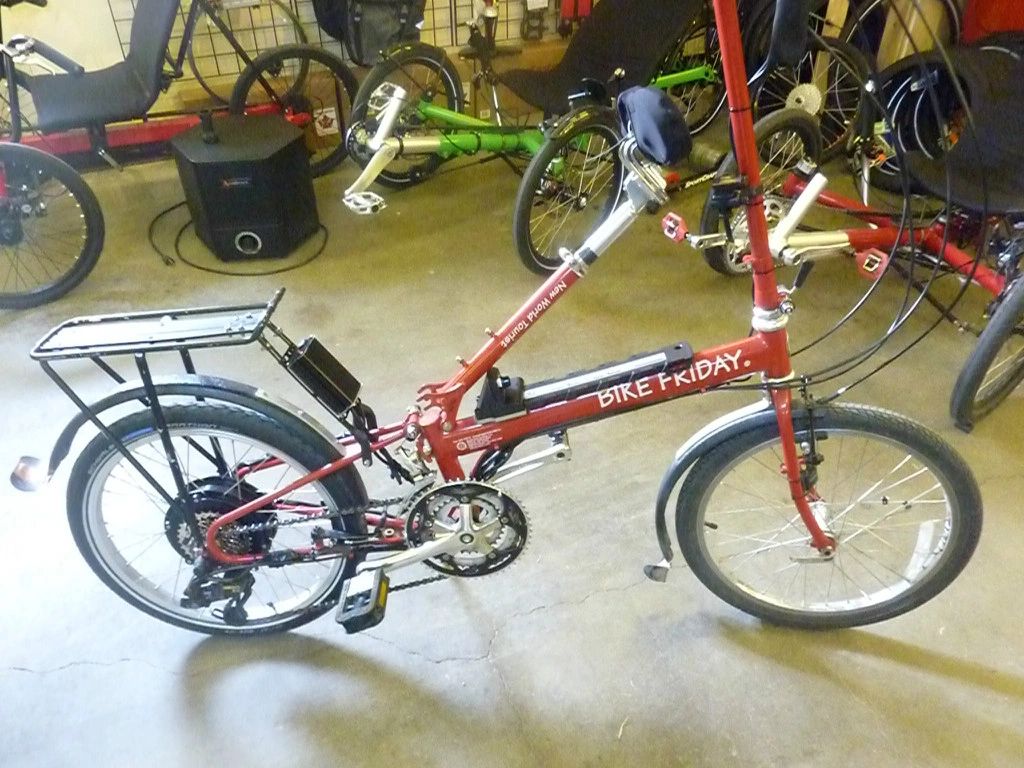 250 watt Bafang hub motor, 23 amp sensorless controller, 36 volt Panasonic battery
Bafang BPM 500 watt motor, AllCell 48 volt 15Ah battery, custom Lyen 35 amp controller.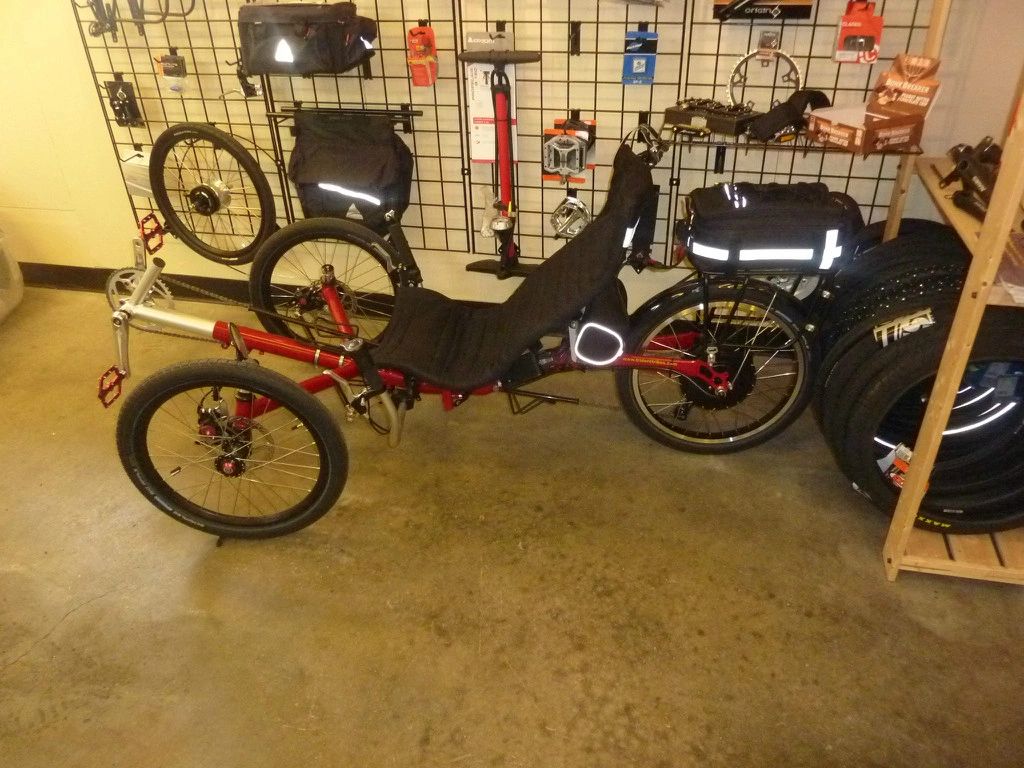 Save
Save
Save